It's behind you,eating your food!!!!
Πίσω σου!!!!
The 5th floor ecosystems includes cats,birds,the occasional butterfly,bees,small lizards and...lots of worms.
Some years ago, in the midst of a recycling crisis,
I bought us a Can-o-Worms!!
Το οικοσύστημα του 5ου εκτός από γάτες (κάπως πολλές γάτες ειναι η αλήθεια) διαθέτει και άλλα ζωντανά.
Πονηρές δεκαοχτούρες, περαστικές μέλισσες, πεταλούδες, σαμιαμίδια, χρυσομυγες-πού συνήθως δεν έχουν καλό τέλος λόγω των γατιών-και φωνακλούδες καρακάξες..
Κάποια στιγμή, σε μία οικολογική κρίση, απέκτησα κι αυτό:


I put the base into a plastic pan with water to prevent ants to climb in.
Η βαση είναι σε ενα πλαστικό πιατάκι με νερό για να μην τρυπώνουν μέσα τα μυρμύγκια.
It is perfect for turning all vegetable leftovers into rich compost for my plants. Inside resides a colony of Foetida Eisenia worms, commonly knows as red wigglers.
Unfortunately the first worms I got some years ago didn't live long.
I didn't know how exactly to take care of them plus I was too busy raiding Tempest Keep and SSC *hangs head in shame*
Σ' αυτό το τρίπατο Can-o-Worms κατοικεί μια αποικία σκουλικιών Foetida Eisenia, είδος που εχει την ευγενη καλωσυνη να μετατρέπει τα απομειναρια των λαχανικων σε λίπασμα.
Εκτός απο λαχανικά -ωμα, οχι μαγειρεμένα και χωρίς λάδια/ξύδια -
τρωνε χαρτιά,τα υπολείμματα του καφέ,τα χρησιμοποιημένα σακουλάκια του τσαγιού συν ο,τι μαζεύει η σακούλα της ηλεκτρικής σκούπας !
Πρέπει βέβαια να ομολογήσω ότι η πρώτη φουρνια σκουλικιών που πήρα... ατύχησε. Δεν είχα ξεκαθαρίσει πόσο πρέπει να ταϊζονται, αν θέλουν υγρασία η όχι,ημουν και πολύ απασχολημένη να κάνω raid στο Tempest Keep...πάνε τα έρμα τα σκουλήκια.
Last Spring I cleaned the plastic worm nest and scooped a spoonful of the dry leftover castings into each plant....and they got wild!
The thrived beyond expectations,they bloomed ,the lemon tree bend from too many lemons...it was fantastic!!
So this February I started with a new bunch of these wonderful guys.
Η φωλιά τους έμεινε να μαζευει σκόνη σε μια γωνιά της βεράντας...
Στο προπέρσινο ανοιξιάτικο καθάρισμα,έβγαλα απο τον κατω δίσκο μια καφε-γκρίζα σκόνη,ό,τι ειχε απομείνει από την αποικία.
Ερριξα απο μια κουταλιά στις γλάστρες οι οποίες....τρελλάθηκαν! Η λεμονιά για πρώτη φορα γέμισε λεμόνια τα φυτα ξεφάντωσαν,τα λουλόυδια οργίασαν ,με λίγα λόγια οι βεράντες ποτέ δεν ήταν πιό όμορφες όσο εκείνη τη χρονιά!
Ετσι φετος τον Φεβρουάριο πήρα άλλη μια φουρνιά σκώληκες.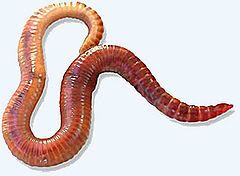 I have to confess I don't really liked worms (eeeekkky!!) but I've got used to them and learning how valuable their work in nature is, I'm starting to respect them.
Apart from vegetables they also eat paper cuts,tea bags,coffee leftovers and whatever the vacuum cleaner bag gathers from the house!! The Can-o-Worms, as I found out, is made in Australia from 100% recycled plastic,but there are a lot of other types of compost makers for apartments-for outdoors you don't need one :]
You have Mother Nature herself!
Τώρα έχω μελετήσει περισσότερο το θέμα.
Δεν τα ταϊζω υπερβολικά, βρήκα τη σωστή θεση να μην χτυπάει το Can-o-Worms ο ήλιος και βράζουν τα καημένα αλλά ακόμα προσπαθώ να λύσω το μυστήριο του γιατί κόβουν βόλτες στον κατω δίσκο...
Παρεμπιπτοντως, με την διαδικασία τούτη συνήθισα να τα βλέπω και δεν παθαίνω κρίσεις αηδίας :]
Στο κάτω κάτω της γραφής αν δεν υπήρχαν αυτά να τρώνε τα σάπια φυτικά υπολείμματα θα ειχε βρωμίσει ο πλανήτης.